Client's brief on What is Seed
Seed is positioning LytePay as the income management app to the world. Seed reintroduces the idea of a long-term pension but with short term rewards to create a daily-use finance app that passes the tooth brush test. Mechanically, how Seed works is that, as your freelancing income grows, LytePay gives you a seed fund. LytePay will manage your seed fund to accrue interest for you as you enjoy the fruits from your income growth and investment of effort.
Challenge
Considering Seed being at its ideation stage, it was required to approach the test from multiple fronts that builds up toward testing as sole testing with users would not permit a good insight into the validity of the product.
"It's about catching customers in the act, and providing highly relevant and highly contextual information."
Paul Maritz, CEO at Pivotal
Building an Effective Full Circle Process as seen bellow
1. Build the community.
The community breaths life into your product
WHY?
The community helps creating credibility and helps create more customers automatically. An Active community, specially around a product that deals with MONEY, breaths life into the company for people and creates TRUST. It takes the company from a silent digital app to a live product with ACTUAL PEOPLE Behind it. An active social media presence creates credibility for a layman.
LYTE needs to build a community online through:
Facebook
Twitter
Discord
Reddit
LYTE Customer service
as it currently has No proper Instagram page and only 98 likes on Facebook and no twitter account. Twitter with its feature of TWITTER POLLS serves a fantastic place to conduct quantitative research. in short, aside from Credibility… you will have a potential test pool you can use at anytime.
Side note on community building
Though this is step one, other steps such as step 2 and 3 can start as building a community will take time. So this step runs parallelly with others but it is just as valuable due to the options it provides from Testing to Marketing to Credibility.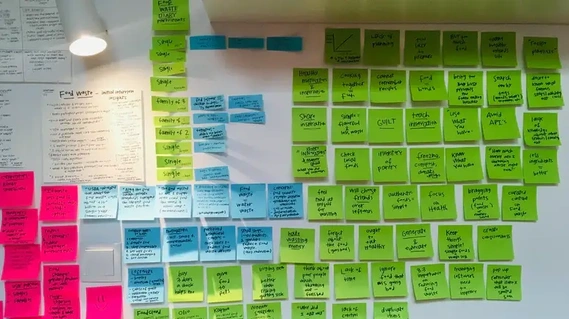 2. Conduct sprints and SET THE GOALS.
clarifying the goals among the team and the stakeholders is Crucial
This step we engage in the first 3 days of a Google sprint while creating an online community and reaching out to groups on Facebook and Reddit and our existing customer base.
Why conduct google sprint meetings for a test?
Due to the sensitivity of the subject which is MONEY each feature can have the potential to make or break the app. EXAMPLE from the Brief:
"Seed is locked-in retention for users. If they leave, they lose seed and seed progress."
Having these hyper focused sprints where everyone will have their minds spoken, removes clutter for the future and polishes the work at hand when it comes to testing.
Day 1
Morning
focus only on 1 KEY Component that can be tested.
gain input from stakeholders and experts, any questions or concerns need to be addressed.
Identify the issues and challenges.
Map out the customer journey in detail
Afternoon
Draw out sketches (wireframes, storyboards) and ideas that are solutions to the challenges in relation to the 1 KEY Component chosen for the test. NOTHING IS STUPID, use a pen and paper to show your ideas.
Day 2
Morning
Showcase the solutions sketched out and put them up for voting
narrow down the options and from the remaining top voted solutions and choose the most suitable
Afternoon
Draw out the chosen solutions and ideas wireframes and storyboards in far greater detail. a full flow low fidelity on a piece of paper would do wonders.
Day 3
Dedicate time and energy to create a high fidelity prototype of the chosen solutions.
Make the prototype as close as it can be to what the final product may be in terms of looks and more importantly in terms of experience.
The goal is to give the customers as accurate of a representation as we can so they can give us an accurate feedback
No Code needed here, a Figma prototype works just fine
Build the site and show what the Core Values of the app are and what is there to gain for the users.
the hero section, from copy to image needs to show what is the problem we will solve for users
Show the app and its design as if its a finished product
features should be highlighted and how it fits into the users life should be extra highlighted.
Have a CTA for LEARN MORE, or TEST OUT OUR BETA, or GET EARLY ACCESS and redirect the users to a Mailing list form page (consider mentioning an incentive will be given to testers).
Have an early bird reward
Best write what you are about in the Headline in less than 10 words to avoid bounce rate from failure to capture attention.
"Let your hard earned cash, earn more for you!"
"Let your money, work for you with SEED!"
(A/B TESTING CAN HELP DECIDING AND REFINING)
Crucial points using the landing page
Push traffic to the landing page by posting about the idea on Slack workspaces, micro-communities, Reddit, Betalist, Indiehackers, Facebook Groups, LinkedIn, and cold email campaigns, but it'll take a lot longer and obviously more work.
Using targeted google ads takes less time but more costly
Use Google Analytics to Monitor the users bounce rate, avg page per view and conversion rate to understand the effectiveness
Use heatmap reading services to view data, monitor users behavior and their heatmaps
4. THE SURVEY
Filter out the potential users and understand their priorities, goals and persona.
OPEN Questions, Describe what they dont like about apps that tackle finance. their feeling towards gaining interest through app investment.
What can create trust for them?
Follow this with link from MAZE or Usertesting.com, to the test. (the survey can either be separate in email or imbedded in the test link as testing apps allow surveys)
Using the Survey
Researches were conducted by using the data gathered from Twitter Polls, use them to validate your ideas with the target market. It also helps as it gives the community value as they feel involved in what is developed (crypto companies do this a lot).
Analyze the data and highlight the data trends
5. Test
Judgment Day
Keep the tests short
Make the prototype used for the test as interactive as possible but keep the screens limited to the question at hand.
have a post test survey to cover any issues you hypothesized they might encounter
Have an Open question on the things missed and how they felt
End it with a survey on, if they be interested in reviewing it again and if possible in person
Take the data and make improvements
6. Qualitative Interview and Re-test
Day after Judgment Day
implement the changes realized through the test and post test survey
Use the pool created in the survey from people that have tested the app before and ask them to re-test the app, this time (if possible) in person or over zoom to see how they react to the NEW changes
(incentive is 100% needed)
Conduct semi-structured interviews with them, record reactions and record their screens.
ask open questions, what concerns them? what they liked and what they think can be better?
Do not ask leading questions or yes or no questions, let the users explain as honestly as possible what they think